Our Team
Meet our amazing, interdisciplinary team, based in Ireland and the US.
Per project, our team expands beyond our core members to include experienced facilitators, researchers, engagement and design experts. For our community-based projects in particular, we work to include community members as an extended part of our team to ensure that our approach is representative, inclusive and rooted in the local area.
Marisa Denker
Marisa is based in Philadelphia and is Co-Director and Co-Founder of Connect the Dots. Marisa is a Fulbright scholar, with a MA Design Practice from Dublin University and a BA in Urban Studies and English from the University of Pennsylvania. Marisa has deep expertise in consultation design, engaging event design, strategic communications, stakeholder management and project management.
An Urban Studies alum from the University of Pennsylvania, she was awarded an international Fulbright fellowship to engage in practice-based research in Dublin to develop a methodology to collectively approach complex urban challenges. This project evolved into Connect the Dots. Previously, Marisa worked at MCO Projects, one of Ireland's leading project management and strategic design firms where she managed large-scale public and behavioural change projects, designed public consultations and events, and developed communications strategies for national and local public sector institutions.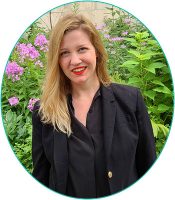 Rosanne Lubeck
Rosanne Lubeck is Connect the Dots' Manager of Engagement and Strategy, based in Philadelphia. She leads cross-sector planning projects, focusing on goals-based consensus building and inclusive outreach processes. Rosanne earned a Masters in Community Planning from University of Maryland in College Park, and has since worked in the transportation field for the City of Chicago and economic development organizations in the Washington, DC area. Rosanne's planning work is informed by a prior decade-long career in advocacy and public relations. Her varied experience prioritizes high-quality communication, detailed project management, and innovative participatory processes.
Keyana Johnson
Keyana is an undergraduate at Temple University majoring in Global Studies with a concentration in Cultures and is also seeking a minor in Community Development. She is skilled in grassroots community engagement and outreach with a devotion to capacity building and empowerment. She has centered applying these scholarships to projects focused directly on her surrounding West Philadelphia community. These include creating and advising on the condition of street trees for a major commercial corridor streetscape revitalization initiative, and planning and implementing an engagement strategy for updating a business district corridor revitalization proposal. Currently, Keyana can be found acting as a community ambassador for expanding the Indego bike share program throughout Philadelphia.
Alexandra Zazula
Alexandra Zazula specializes in strategic communication, data collection and visualization, and grassroots engagement with diverse communities. She is a summa cum laude graduate of New York University in Metropolitan Studies, and holds a Master of City & Regional Planning from the University of Pennsylvania. She gained the majority of her experience working at nonprofit organizations, ranging from a Bronx community board to a waterfront development corporation in Philadelphia. Alexandra's work combines data analysis with storytelling in order to make planning processes and projects more accessible. She became bilingual during her time working in migration and community development at a human rights organization in El Salvador. Now based in Philly, she uses her experience in Central America to apply a lens of social justice to fostering more inclusive environments.
Winslow Mason Jr.
Winslow Mason Jr. is a senior OD leader who specializes in community and stakeholder engagement. With a background in community organizing, journalism and DEI (Diversity, Equity and Inclusion), Winslow brings a diverse set of skills and strategies to the areas of large group facilitation, meeting design, systems integration and relationship building. He consults across many disciplines, including education, human resources and health care.
Naomi Murphy
Naomi is based in Ireland and is Co-Director and Co-Founder of Connect the Dots. Naomi brings deep domain expertise related to all aspects of engagement and events. She has wide and deep experience in marketing and communications, event design, as well as logistics and production. Her degree in Creative and Cultural Industries and subsequent Masters in Design Practice means that she approaches engagement in a more innovative, imaginative way – through a creative, collaborative and user-led design lens.
Before Connect the Dots, Naomi has been involved in planning and delivering over 80 events with budgets of over ½ million euro, developing her own as well. She was previously Head of Operations at national pop-up community events platform, Happenings, working for clients such as 7Up, Dublin Waterways, St Patrick's Day Festival, Dublin City Council, and many more.
Joanne Griffin
Joanne Griffin is founder and CEO at AdaptIQ, a boutique consulting firm helping companies, and their employees, thrive in a world where change is the new constant, and Co-founder at IrelandTogether, a non-profit business support network, committed to finding innovative solutions to the unfolding economic uncertainty impacting Irish businesses.
With a passion for problem-solving and an agile mindset, Joanne has extensive experience in finance, business transformation, automation, innovation management and organisational change. She is a frequent speaker on the topics of emerging technologies, crowdsourcing, and how we respond to change.
Fiona Descoteaux
Fiona is a senior executive in the non-profit, local development and social enterprise sectors, and is currently CEO of Innovate Communities (IC) – an organisation she initiated working within a multi-stakeholder environment. Her organisation helps people solve old problems in new ways, in the places they live, work and play.
It brings an exciting blend of fresh thinking, design, technology and common sense, and works with communities to create and deliver projects that work in real life and create a lasting impact. Fiona has a proven track record in building successful relationships for strategic and operational gain across a diverse range of sectors; non-profit, private, statutory, academic, local government and government.
An advocate for assessing and trialling innovative social solutions, Fiona has demonstrated a nuanced approach to developing engagement with target groups, delivering programmes and results whilst working within formal corporate governance structures and best practice, and has the ability to access funding from multiple sources.
Eamonn Hall
Eamonn is a graphic designer with 8 years industry experience. He has worked in both small design studios and large advertising agencies on a range of different projects encompassing logo and branding design, web development, print productions and advertising campaigns. You can see more of his work on his website www.ehgd.xyz
Gael Welstead
Gael Welstead is a researcher, writer and designer from Scotland; after time living in Melbourne and London she came to Dublin 3 years ago. Completing an MA in design history at NCAD helped to expand her understanding of the relationships between design and people. She is fuelled by the patterns of everyday life and making connections in our environments, cultures and identities. Through research, ethnography and design she has created value for Dublin City Council, Galway City Museum, Fáilte Ireland and the National Disability Authority.